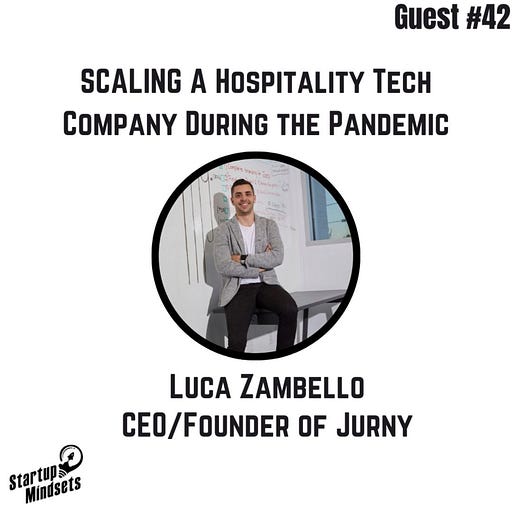 Nov 29, 2021 • 37M
Jurny's Journey: Luca Zambello Founder/CEO
Welcome to The Startup Mindsets Podcast! Dan Gonzales and Earl Valencia will be your hosts. Week in and week out we will dive into how founders across technology and innovation leaders think about running their business and why innovation now is more important than ever. Discover your startup mindset today! We hope you enjoy the show! :) -Dan and Earl Support this podcast: <a href="https://anchor.fm/startupmindsets/support" rel="payment">https://anchor.fm/startupmindsets/support</a>
What's up Startup Mindsets Fam! Hope you had a great Thanksgiving, in the spirit of hospitality we have Luca Zambello, Founder of Jurny on the show today. Jurny is a hospitality tech company offering SaaS-based management solutions for the modern traveler. We discuss what it was like during Jurny's most difficult months in operation during covid and how they made it through. 
Luca discusses growing up in Italy and moving to attend UCLA, what inspired him to start Jurny, and how he build the company without coding himself. Jurny's raised over 10M USD with notable VCs such as Mucker Capital.
Be sure to try them out the next time you're looking for a vacation!!!
Startup Mindsets is now a Bench.co Partner!!! Use our referral link for 30% your businesses' book keeping services for the first 3 months.
--- This episode is sponsored by · Anchor: The easiest way to make a podcast. https://anchor.fm/app Support this podcast: https://anchor.fm/startupmindsets/support